Packing & Dangerous Goods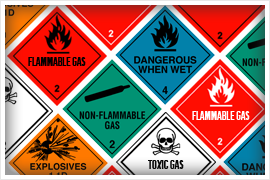 Sovereign Cargo can also provide packing services for both general cargo and for dangerous goods. The transportation of goods that are classified as dangerous, must adhere to specific packing guidelines determined by international regulations.
Packing
We can assist with any packing requirements needed from general packing, large crating, keep cool packaging, refridgerated, envirotainers and dangerous goods. Where required we can meet all the ISPM15 regulations for international movement of wood packaging.
Dangerous Goods
Sovereign Cargo's logistics team are fully qualified for the movement of dangerous goods around the world on the various modes of transport. We can assist with the packing, labelling and the completing of documentation required.